Mr. Victor (Vic) French, President & COO, reports:
BAY ROBERTS, NEWFOUNDLAND / June 8th, 2022 / PUDDLE POND RESOURCES INC. (the "Company" or "Puddle Pond") is pleased to report that the Company's inaugural ("scout") drilling program at its 100%-owned Handcamp Project in Central Newfoundland has been completed on time and on budget. The ten angled diamond drill holes were designed to evaluate the nature and extent of a part of a newly discovered shear zone that is host to a wide zone of near-surface gold mineralization. Reported here are the gold assay results from the final four drill holes (H22-07, -08, -09, and -10). Drill holes H22-09 and H22-10 were collared 650 metres south from the most northerly drill hole (H22-05), along the interpreted trend (north-northeast/south-southwest) of the mineralized shear zone.
Observations from the first diamond drill holes (H22-01 to H22-03) show that the gold mineralization in the shallower intersections is mainly associated with zones of intense silica flooding/stockworks of crosscutting quartz veinlets. However, later observations from the lower part of the final drill hole H22-10 (where the first occurrence of visible gold was noted, Figure 1) suggest that the presence of narrower, higher-grade intersections associated with vuggy quartz veins may become more consequential as the diamond drilling tests greater depths in the mineralized shear zone.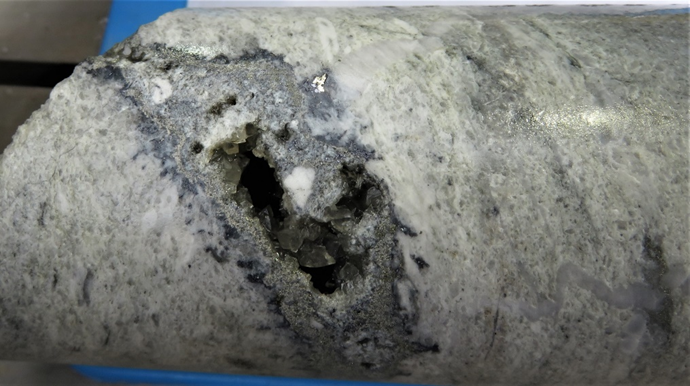 Like most of their predecessor holes both H22-09 and H22-10 cut significant, near-surface (<100 metres depth from surface) widths of gold mineralization. (Note that silver and base-metal assays for drill holes H22-07 through H22-10 are pending).
H22-10
3.61 g/t Au over 6.45 metres (21 feet) in an upper zone and 3.10 g/t Au over 3.05 metres (10 feet) in a lower zone of mineralization.
H22-09
1.30 g/t Au over 12.95 metres (42 feet) including 3.86 g/t Au over 3.00 metres (10 feet).
Drill holes H22-07 and H22-08 did cut significant widths of lower grade (0.3-0.5 g/t Au) gold mineralization. In the case of drill hole H22-08 drilling had to be suspended after only 32 metres of core had been recovered (and before the main mineralized zone was intersected) due to mechanical issues. Also, drill hole H22-07 was collared on a local topographic high and appears to have cut only the upper margin of the main mineralized zone.
H22-08
0.40 g/t Au over 5.45 metres (18 feet).
H22-07
0.32 g/t Au over 4.70 metres (15 feet).
Gold mineralization in drill holes H22-07 through H22-10 was intersected at vertical depths (from surface) ranging from ~12 metres (~40 feet) to ~73 metres (~240 feet), once again demonstrating the near-surface character of the zone of gold mineralization that has now been tested over a strike length of 650 metres (2,100 feet).
Mr. French commented: "For a scout drilling program to return such a set of robust, near-surface intersections of gold mineralization from what is a complex fault structure is truly gratifying. We look forward to keeping our exploration focus at Handcamp and hope to be drilling again soon."
On Behalf of the Board of Directors
"Victor A. French"
1-709-786-7978
contactus@puddlepondresources.com
About Puddle Pond Resources Inc.: Puddle Pond Resources is a Newfoundland-based mineral exploration company (headquartered in Bay Roberts, Conception Bay) focused on the identification and development of undervalued mineral assets in the Province of Newfoundland & Labrador, one of the Fraser Institute's top-10 mining jurisdictions in the world. The Company's present foci are Orogenic Gold, Epithermal Gold-Silver, and Volcanogenic Massive Sulphide deposits. Presently, the Company holds the rights to more than 90,000 hectares (>900 km2) of mineral claims on the Island of Newfoundland, distributed amongst 19 individual properties that are situated in either the "Central Newfoundland Gold Belt", the "Baie Verte Mining District", or the "Avalonian Epithermal Belt".
Qualified Person
Victor French, P.Geo., President of Puddle Pond Resources Corp., and a Qualified Person ("QP") as defined by Canadian National Instrument 43-101, has reviewed, and approved the technical information contained in this News Release. The drilling campaign and quality control program have been planned and supervised by Victor French.
Quality Assurance/Quality Control ("QA/QC")
Drill-core samples, selected by Puddle Pond exploration personnel were submitted to Eastern Analytical Ltd. (Newfoundland & Labrador) for assaying and geochemical analysis. Samples were delivered in sealed bags directly to the lab in Springdale by Puddle Pond staff. Eastern Analytical is an ISO 17025 Certified Assay Laboratory. Samples submitted to Eastern Analytical are analyzed with the strictest quality control with blanks (analytical & method), duplicates, and standard reference materials (viz. CANMET, CDN, OREAS, GEOSTAT) being inserted into the sequence of client samples. Gold is analyzed by standard fire assay methods and thirty-four other elements (including silver) are analyzed by ICP-OES (Inductively Coupled Plasma-Optical Emission Spectroscopy. In addition to the regular insertion of blank, duplicate, and standard samples by the Assay Laboratory, Puddle Pond routinely includes its own blanks and standards.