Mr. Victor (Vic) French, President & COO, reports:
BAY ROBERTS, NEWFOUNDLAND / June 16th, 2022 / PUDDLE POND RESOURCES INC. (the "Company" or "Puddle Pond") is pleased to provide a summary of the newly received silver assays from the Company's recently completed, inaugural ("scout") drilling program at its 100%-owned Handcamp Project in Central Newfoundland (Table 1). The ten angled diamond drill holes were designed to evaluate the nature and extent of a part of a newly discovered shear zone that is host to a wide zone of near-surface gold mineralization.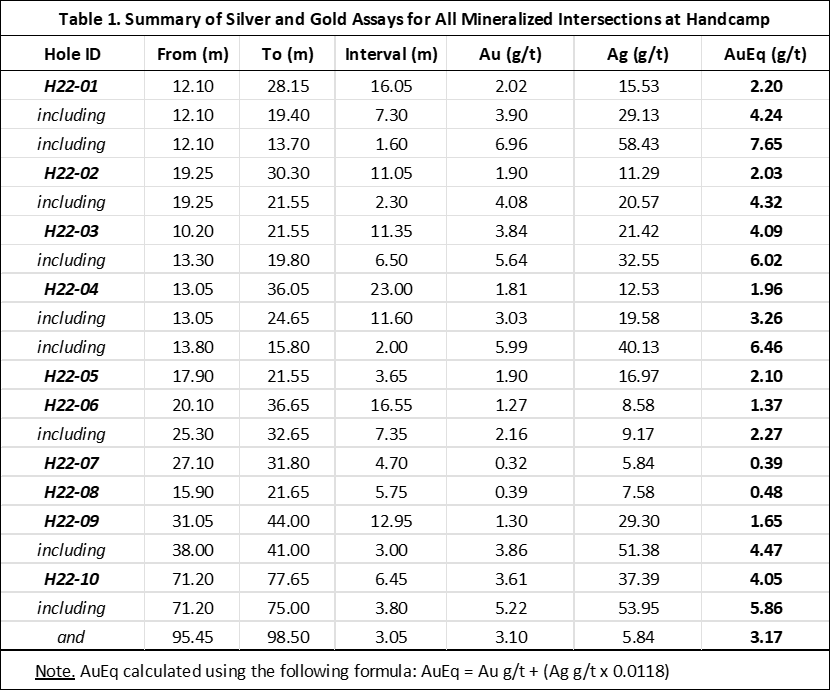 Analysis of the silver assay data for all ten drill holes demonstrates: 1) that the distribution of silver is strongly, positively correlated with that of gold; and 2) the presence of a significant concentration of silver in each of the wide gold-mineralized intersections (Table 1), which adds significant by-product value potential (Note. In some ore, like that of the Handcamp gold mineralization, several metals are present and the sale of one may help finance the mining of another. In this case the by-product silver may help offset the costs of mining the gold). Known traditionally for its use in jewelry and coinage, silver's combination of ductility and superior electrical conductivity make it perfect for use in modern micro-electronic devices such as smartphones and laptops/tablets; and also mean that silver will play a significant role in future "green infrastructure" such as solar energy generation.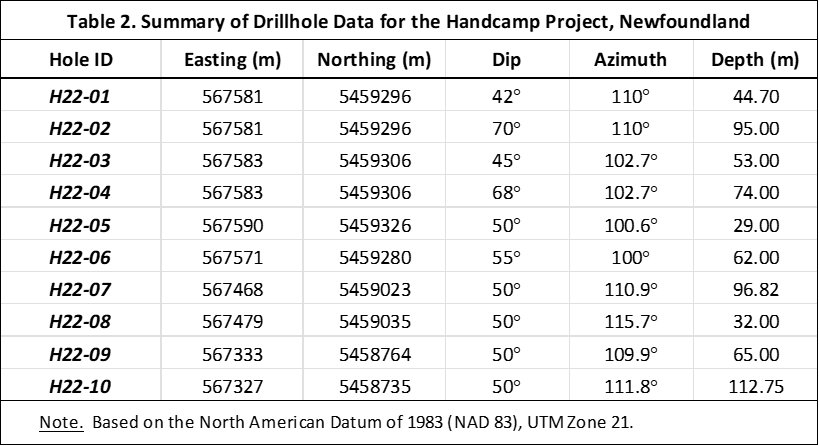 Mr. French commented: "The addition of payable silver to the newly drilled zone of near-surface gold mineralization at Handcamp is an unexpected bonus for Puddle Pond and adds another positive element to this exciting discovery."
On Behalf of the Board of Directors
"Victor A. French"
1-709-786-7978
contactus@puddlepondresources.com
About Puddle Pond Resources Inc.: Puddle Pond Resources is a Newfoundland-based mineral exploration company (headquartered in Bay Roberts, Conception Bay) focused on the identification and development of undervalued mineral assets in the Province of Newfoundland & Labrador, one of the Fraser Institute's top-10 mining jurisdictions in the world. The Company's present foci are Orogenic Gold, Epithermal Gold-Silver, and Volcanogenic Massive Sulphide deposits. Presently, the Company holds the rights to more than 90,000 hectares (>900 km2) of mineral claims on the Island of Newfoundland, distributed amongst 19 individual properties that are situated in either the "Central Newfoundland Gold Belt", the "Baie Verte Mining District", or the "Avalonian Epithermal Belt".
Qualified Person
Victor French, P.Geo., President of Puddle Pond Resources Corp., and a Qualified Person ("QP") as defined by Canadian National Instrument 43-101, has reviewed, and approved the technical information contained in this News Release. The drilling campaign and quality control program have been planned and supervised by Victor French.
Quality Assurance/Quality Control ("QA/QC")
Drill-core samples, selected by Puddle Pond exploration personnel were submitted to Eastern Analytical Ltd. (Newfoundland & Labrador) for assaying and geochemical analysis. Samples were delivered in sealed bags directly to the lab in Springdale by Puddle Pond staff. Eastern Analytical is an ISO 17025 Certified Assay Laboratory. Samples submitted to Eastern Analytical are analyzed with the strictest quality control with blanks (analytical & method), duplicates, and standard reference materials (viz. CANMET, CDN, OREAS, GEOSTAT) being inserted into the sequence of client samples. Gold is analyzed by standard fire assay methods and thirty-four other elements (including silver) are analyzed by ICP-OES (Inductively Coupled Plasma-Optical Emission Spectroscopy). In addition to the regular insertion of blank, duplicate, and standard samples by the Assay Laboratory, Puddle Pond routinely includes its own blanks and standards.