Mr. Victor (Vic) French reports:
BAY ROBERTS, NEWFOUNDLAND / June 6th, 2022 / PUDDLE POND RESOURCES INC. (the "Company" or "Puddle Pond") is pleased to provide the following update on the Painted Dory Project (the "Project"), located in Newfoundland's Baie Verte Mining District, and owned 100% with no underlying royalties. The Painted Dory Project is situated a few kilometres from the town of Baie Verte and Rambler Metals and Mining's operating Ming Mine (Figure 1). The 4,500-hectare Painted Dory Project covers much of the southern part of the Lower Pacquet Harbour Group – a suite of submarine, mafic and felsic volcanic rocks that are prolific hosts to volcanogenic massive sulphide (VMS) mineralization.
Prior to Puddle Pond's first round of fieldwork in 2021, which identified numerous zones of copper and gold mineralization (see News Release of December 15th, 2021) there had been a 25-year hiatus in mineral exploration; with the last detailed examination of the area's copper and gold potential having been conducted by CanAustra Gold Exploration Ltd. in the late 1980s and International Corona Corporation in the early 1990s. In addition to finding numerous occurrences of high-grade copper mineralization (assays up to 26% Cu) CanAustra's 1988 program of prospecting also discovered a significant zone of high-grade, gold-silver mineralization termed the Twin Pond Prospect found a few hundred metres to the southwest of Bill's Pond (see Figure 1).
Newly added claims – the "Southern Group"
These claims cover the Twin Pond Prospect discovered by CanAustra Gold Exploration. The Twin Pond Prospect consists of a highly altered zone with sulphides (galena, chalcopyrite, and pyrite) occurring as abundant disseminations to nearly massive mineralization with assays of the ore mineralization revealing high concentrations of gold (up to 33 g/t Au) and silver (up to 178 g/t Ag) (see Table 1.). Through trenching, the mineralized zone was exposed at two locations, approximately one hundred metres apart. Until recently the cancelled claims hosting the Twin Pond Prospect had been unavailable for exploration but in April of this year Puddle Pond was able to successfully complete their acquisition.
Following on from CanAustra's exploration, International Corona Corporation conducted a comprehensive, fully integrated program of geological mapping, geophysics, and geochemistry (soils, tills) in the northern section of what is now Puddle Pond's Painted Dory Project. In addition to finding numerous surface occurrences of gold and copper mineralization they discovered a large gold-in-till anomaly which they termed "Anomaly 2". Although most of the surface area of Anomaly 2 was covered by the existing Puddle Pond claims, a small part of the so-called "western lobe" of Anomaly 2 was contained within a small group of cancelled claims. Once again Puddle Pond was able to successfully acquire the cancelled claims thereby extending its coverage of the large gold-in-till anomaly discovered by International Corona to >95%.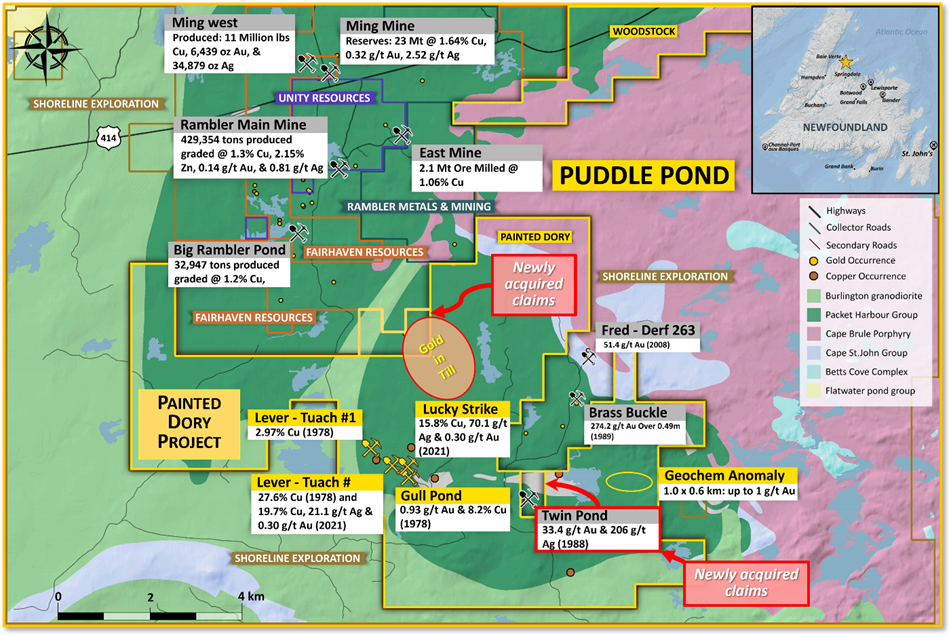 Newly added claims – the "Northern Group"
These claims cover the western lobe of International Corona Corporation's (1992) "Anomaly 2" and mean that Puddle Pond's claims now cover >95% of this anomaly. Anomaly 2 forms a large gold dispersal train consisting of three distinct northeast- to east-northeast-trending lobes that decay eastward, fitting the 075° ice flow direction defined by neighbouring ribbed till moraine ridges (Averill, 1996). The 800-metre-wide central lobe of the gold dispersal train is more anomalous than the eastern and western lobes despite occurring in an area of thicker till cover. The average 30-80 grains/sample strength of this part of the train is comparable to that of trains from many known gold deposits (op. cit.), with peak values exceeding 100 gold grains/sample and calculated visible gold values ranging up to 23.38 g/t Au (op. cit.).
Mr. French commented: "The newly acquired claims add significantly to both the precious- and base-metal potential and intrinsic value of the Painted Dory Project, which occupies a strategic land position in the Baie Verte Mining District."
Victor French, P.Geo., a Qualified Person as defined by NI 43-101 and President & COO for Puddle Pond, oversees the technical information contained in this News Release.
On Behalf of the Board of Directors
"Victor A. French"
1-709-786-7978
contactus@puddlepondresources.com
About Puddle Pond Resources Inc.: Puddle Pond Resources is a Newfoundland-based mineral exploration company (headquartered in Bay Roberts, Conception Bay) focused on the identification and development of undervalued mineral assets in the Province of Newfoundland & Labrador, one of the Fraser Institute's top-10 mining jurisdictions in the world. The Company's present foci are Orogenic Gold, Epithermal Gold-Silver, and Volcanogenic Massive Sulphide deposits. Presently, the Company holds the rights to more than 90,000 hectares (>900 km2) of mineral claims on the Island of Newfoundland, distributed amongst 19 individual properties that are situated in either the "Central Newfoundland Gold Belt", the "Baie Verte Mining District", or the "Avalonian Epithermal Belt".
(Data Sources: CanAustra Gold Exploration Ltd. (1988) Second Year Assessment Report on Geological, Geochemical and Geophysical Exploration for the Gull Pond project for Licence 2869 on Claim Block 4498, Licence 2876 on Claim Block 4496 and Licence 2923 on Claim Block 4651 in the Double Pond, North Twin Pond and Snoopy Pond areas, Newfoundland: Government of Newfoundland & Labrador Department of Natural Resources Assessment Report 012H/16/1044; International Corona Corporation (1991) Third and Fourth Year Assessment Report on the Project 7412 (Rambler South Property): Government of Newfoundland & Labrador Department of Natural Resources Assessment Report NFLD/2184; Averill, S.A. (1996) Follow-Up Heavy Mineral Till Geochemistry Survey for Gold on Corona Anomalies 1 and 2: Government of Newfoundland & Labrador Department of Natural Resources Assessment Report 012H/16/1544 (Appendix C).