Mr. Victor (Vic) French, President & COO, reports:
BAY ROBERTS, NEWFOUNDLAND / May 31st, 2022 / PUDDLE POND RESOURCES INC. (the "Company" or "Puddle Pond") is pleased to report that the Company's inaugural ("scout") drilling program at its 100%-owned Handcamp Project in Central Newfoundland has been completed on time and on budget. From an operational point of view the Handcamp Project is ideally situated. Close to the Trans-Canada Highway and the town of Springdale, the Project benefits from the excellent local exploration/mining infrastructure and accordingly Puddle Pond's operating costs at Handcamp are amongst the lowest of any exploration project on the Island of Newfoundland. The ten, short, diamond drill holes (~750 metres or 2,500 feet of core) were designed to evaluate the nature and extent of the middle part of a newly discovered shear zone that is host to a wide zone of near-surface gold mineralization.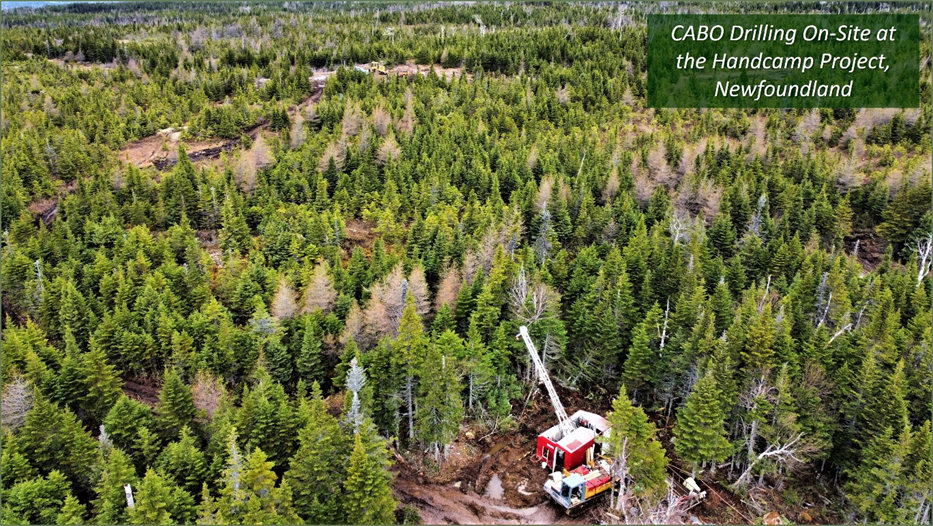 Initial observations indicate that the gold mineralization is associated with zones of intense silica flooding/stockworks of crosscutting quartz veinlets associated with pyritization and base-metal sulphides. Like their predecessor drill holes (H22-01, -02, and -03; see News Release of May 26th, 2022), holes H22-04 and H22-06 both cut a significant length of near-surface, gold mineralization and look to have tested the full width of the "mineralized zone", whilst H22-05 appears to have intersected just the margin. (Note that silver and base-metal assays for drill holes H22-03 through H22-06 are pending).
H22-04
3.03 g/t Au over 11.60 metres (38 feet) contained within a broader interval of 1.81 g/t Au over 23.00 metres (75 feet).
H22-05
1.90 g/t Au over 3.65 metres (12 feet).
H22-06
2.16 g/t Au over 7.35 metres (24 feet) contained within a broader interval of 1.27 g/t Au over 16.55 metres (54 feet).
Also, additional assays received for drill hole H22-03 have resulted in that mineralized intersection being expanded:
H22-03 (including the new assay results)
3.84 g/t Au over 11.35 metres (37 feet) including 5.64 g/t Au over 6.50 metres (21 feet).
Mr. French commented: "Every diamond drill hole provides important new data about the structures and lithologies that define the gold-mineralized shear zone. With so little outcrop because of the significant amount of glacial till cover, tracing the mineralized structure is challenging at best. Although we have had excellent early results with the drilling, we must temper our expectations and recognize that there is still so much to learn about the Project's geological setting and the distribution of the newly identified zone of near-surface gold mineralization at Handcamp."
On Behalf of the Board of Directors
"Victor A. French"
1-709-786-7978
contactus@puddlepondresources.com
About Puddle Pond Resources Inc.: Puddle Pond Resources is a Newfoundland-based mineral exploration company (headquartered in Bay Roberts, Conception Bay) focused on the identification and development of undervalued mineral assets in the Province of Newfoundland & Labrador, one of the Fraser Institute's top-10 mining jurisdictions in the world. The Company's present foci are Orogenic Gold, Epithermal Gold-Silver, and Volcanogenic Massive Sulphide deposits. Presently, the Company holds the rights to more than 90,000 hectares (>900 km2) of mineral claims on the Island of Newfoundland, distributed amongst 19 individual properties that are situated in either the "Central Newfoundland Gold Belt", the "Baie Verte Mining District", or the "Avalonian Epithermal Belt".
Qualified Person
Victor French, P.Geo., President of Puddle Pond Resources Corp., and a Qualified Person ("QP") as defined by Canadian National Instrument 43-101, has reviewed, and approved the technical information contained in this News Release. The drilling campaign and quality control program have been planned and supervised by Victor French.
Quality Assurance/Quality Control ("QA/QC")
Drill-core samples, selected by Puddle Pond exploration personnel were submitted to Eastern Analytical Ltd. (Newfoundland & Labrador) for assaying and geochemical analysis. Samples were delivered in sealed bags directly to the lab in Springdale by Puddle Pond staff. Eastern Analytical is an ISO 17025 Certified Assay Laboratory. Samples submitted to Eastern Analytical are analyzed with the strictest quality control with blanks (analytical & method), duplicates, and standard reference materials (viz. CANMET, CDN, OREAS, GEOSTAT) being inserted into the sequence of client samples. Gold is analyzed by standard fire assay methods and thirty-four other elements (including silver) are analyzed by ICP-OES (Inductively Coupled Plasma-Optical Emission Spectroscopy. In addition to the regular insertion of blank, duplicate, and standard samples by the Assay Laboratory, Puddle Pond routinely includes its own blanks and standards.