Private company Puddle Pond Resources Inc. is pleased to report positive results from a 25-hole drill program recently completed at the Eagle Zone, 1 of 15 gold – silver target areas on the Heritage Gold – Silver Project located on the Burin Peninsula, southern Newfoundland. The Eagle Zone was discovered during a drill program completed in the fall of 2013 when several holes successfully intersected gold and silver mineralization along a 500 metre zone of multiple quartz veins and intense silica alteration (ref Press Release, January 29, 2014).
The focus for the 25 hole – 3000 metre (10,000 ft) program was (a) to drill test the limits of the Eagle Zone indicated by surface surveys to be 1000 + metres (3500 ft) in length and (b) to follow up on a 250 metre (825 ft) section of high grade gold (Au) – silver (Ag) mineralization contained within the 500 metre (1640 ft) zone drilled in 2013. The current drill results show that the Eagle Zone is a large zone consisting of stockwork quartz veining and intense silicification containing widespread gold and silver mineralization. The Eagle Zone and the other 14 gold – silver target areas are contained within the Point May Epithermal System which extends over an area of at least 4 kms x 1.5 kms within the Heritage Project.
Drilling at wide 75-250 m spacings north and south of the high grade section was successful with Au – Ag mineralized intervals being intersected along the 1000 + m length of the Eagle Zone indicated by surface surveys. Mineralized intervals in the northernmost hole (e.g. 0.70 m @ 1.42 g/t Au & 270 g/t Ag and 0.55 m @ 2.0 g/t Au & 201 g/t Ag) and southernmost hole (e.g. 1.10 m @ 1.34 g/t Au) confirm the zone is open in both directions beyond the 1000 + m length, and is also open at depth.
Examples of Au – Ag mineralized intervals intersected along the zone include:
Interval Length (m)     Au g/t                Ag g/t        Total Au + (Eq Au*)
1.45                              1.54                 447.00             8.73
1.35                              1.94                 313.00              6.97
0.70                             1.42                 270.00             5.76
*Au Eq* = Au g/t + Ag g/t whereby silver (Ag) is expressed as gold (Au) at 62.20 g/t Ag = 1 g/t Au.
These enriched intervals also indicate that there is good potential for continuation of the higher grade veins and shoots typical of the high grade Au – Ag, mineralized, 250 m long section.
Detailed drilling at 25 – 50 m spacings of this high grade section was also very successful, adding considerable size to the high grade section extending the length to at least 450 m from the 250 m outlined in 2013 drilling.
Other positive drill results from the 450 m long high grade section include numerous 0.50 to 2.00 metre intervals of high grade gold and silver ranging up to bonanza grades of 1322 g/t or 42.5 oz/t Ag and 34.89 g/t or 1.12 oz/t Au. Also the high grade mineralization in the drill holes extends to near surface, for example a thick interval of 10.60 metres (35 ft) was intersected at a shallow, vertical depth of 20 metres, and grading 3.44 g/t Au & 181.5 g/t Ag with higher grade veins such as 2.60 m @ 7.34 g/t Au and 257.55 g/t Ag, or 8.28 oz/t Ag. This thick 10.60 m interval is 281 metres from another thick interval of 5.55 metres grading 5.5 g/t Au & 133.51 g/t Ag and other high grade intervals between these 2 thick intervals provide evidence that these veins and shoots are continuous within the 450 m higher grade section.
Drilling to date shows that the higher grade gold (up to 34.89 g/t or 1.12 oz/t) and silver (up to 1322 g/t or 42.50 oz/t) is concentrated in black, sulphide rich pyrite + base metals zinc, lead and copper veinlets called "ginguro veins" common throughout the Eagle Zone. These veinlets which display numerous sites of native silver are also observed to contain bonanza grade mineralization in surface samples from other gold – silver target areas with a highest grade of 117 g/t or 3.76 oz/t Au and 2769 g/t or 89 oz/t Ag being recorded (ref. Press Release May 30, 2012). The Eagle Zone has been drilled down to a vertical depth of 160 metres and these epithermal systems can extend to much greater depths of 1 km or greater.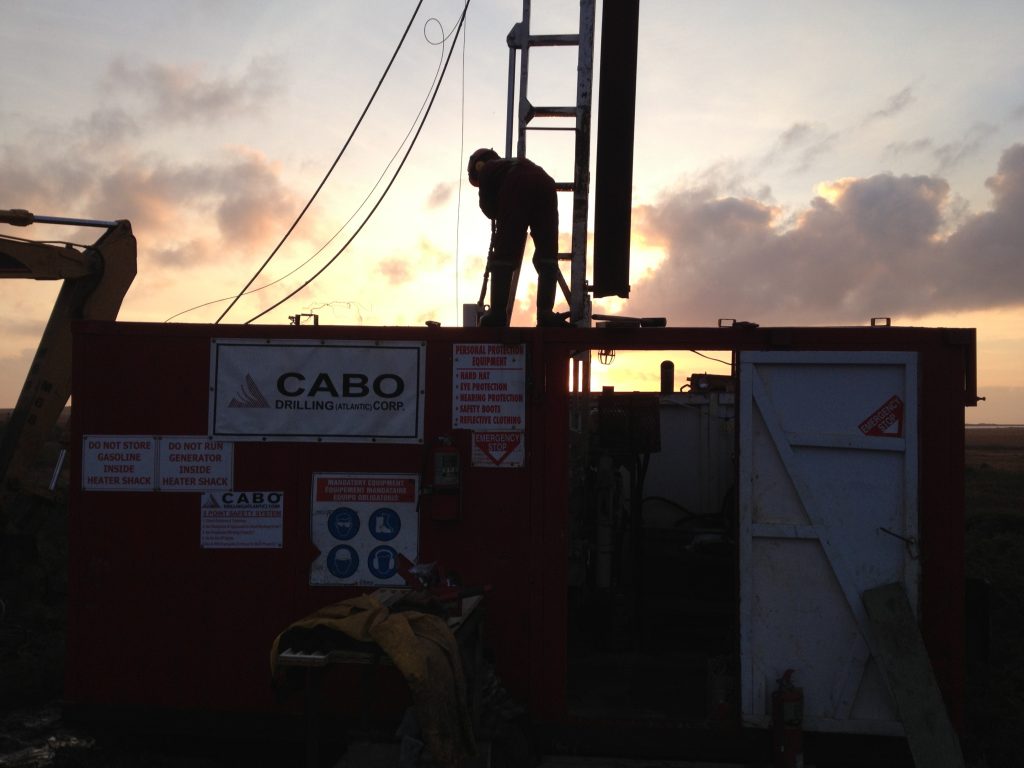 The company is highly encouraged with these latest positive drill results which improve the exploration understanding and potential of the Heritage Project. Gold and silver was first discovered in 2010 and since Puddle Pond first commenced its exploration program in 2012 the project has evolved to a highly attractive and drill advanced gold – silver project.
Puddle Pond Resources also acknowledges the excellent support it has received from its shareholders and Provincial Government agencies. The exploration program has greatly benefited from drilling grants received under the Junior Exploration Assistance Program administered by the NL Department of Natural Resources, and a research grant from the NL Research & Development Council for a field and research program being administered by Memorial University of NL.
The positive results from the drilling completed to date provides important drill data and blending this information with earlier surface surveys generates a database that will greatly assist in directing future drill programs at the Eagle Zone and also at the other 14 gold – silver target areas throughout the 4 km x 1.5 km Point May Epithermal System.
The information in this release was compiled by Victor A French, P. Geo who is a qualified person under NI 43-101 guidelines