Mr. Victor (Vic) French reports:
BAY ROBERTS, NEWFOUNDLAND / February 14th, 2023 / PUDDLE POND RESOURCES INC. (the "Company" or "Puddle Pond") has intersected a narrow (0.9 metre/3.0 feet) interval of high-grade volcanogenic massive sulphide (VMS) style mineralization in the latest of its drillholes (H22-14) at the Handcamp Gold Project, which is located close to the Town of South Brook in Central Newfoundland. Year-round access to the Project, which is located alongside the Trans-Canada Highway is excellent. The latest drillhole (H22-14) was the last in the highly successful inaugural drill program that took place in the second half of 2022 (see News Release of February 9, 2023, for a summary of the drilling results).
The 0.9 metre (3.0 feet) intersection of copper-rich VMS-style mineralization (see Figure 1) assayed 10.0 g/t Au, 273.0 g/t Ag, 2.38% Cu, 3.17% Zn, and 3.36% Pb and is both polymetallic and high-grade in nature. As such it closely resembles high-grade "auriferous" VMS ores from deposits like that of the Horne Mine in the Noranda Camp. Also, the VMS mineralization is immediately overlain by a thin (0.65 metre/2.13 feet) unit of dense, aphanitic siliceous material that geochemically resembles an "exhalative" horizon, which is also enriched in gold (1.21 g/t Au) together with barium (5326 ppm Ba), manganese (>20,000 ppm Mn), iron (8.48% Fe), and zinc (0.28% Zn).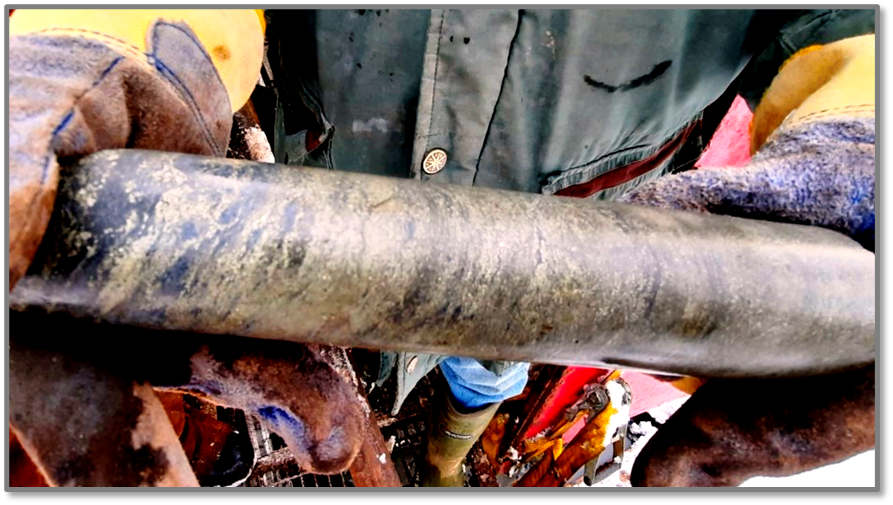 Although primarily a target for "orogenic style" (shear-zone hosted) gold mineralization, the Handcamp Project claims also have tremendous VMS potential. Both the world-class Buchans Mine and the nearby Gullbridge Mine VMS orebodies are hosted in the same regionally extensive (>300 km of strike length), lithotectonic sequence of bimodal submarine volcanic rocks (i.e., the Buchans-Roberts Arm Belt), which formed in a mature island-arc complex in the northern part of the Cambro-Ordovician Iapetus Ocean. Over a more than 50-year life the Buchans Mine produced >16 million tonnes at grades of 1.33% Cu, 14.74% Zn, 7.81% Pb, 118 g/t Ag, and 1.33 g/t Au. Although Puddle Pond's current priority is to expand upon the recently discovered zone of shear-zone related gold mineralization, it is the Company's intention to fully integrate exploration for polymetallic massive sulphide mineralization into its 2023 program of fieldwork.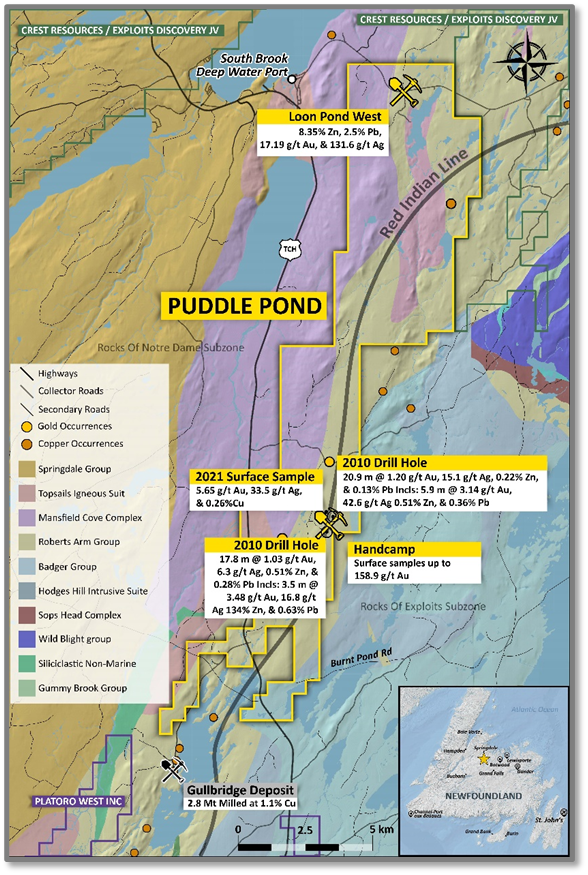 The >9,500-hectare Handcamp Gold Project, which is 100%-owned with no underlying royalties, stretches for more than 20 kilometres from Loon Pond in the north to Great Gull Pond in the south and covers much of the northern part of the Buchans-Roberts Arm belt. Throughout the 1970s, 80s, and 90s, the project area was the focus of volcanogenic massive sulphide (VMS) exploration, but the discovery of high-grade gold mineralization in 2004-05 by local prospectors (138.1 g/t Au in float; 27.0 g/t Au in outcrop; Lannon, 2005) shifted the focus.
Victor French, P.Geo., a Qualified Person as defined by NI 43-101 and President & COO for Puddle Pond, is responsible for the technical information contained in this News Release.
On Behalf of the Board of Directors
"Victor A. French"
1-709-786-7978
contactus@puddlepondresources.com
About Puddle Pond Resources Inc.: Puddle Pond Resources is a Newfoundland-based mineral exploration company (headquartered in Bay Roberts, Conception Bay) focused on the identification and development of undervalued mineral assets in the Province of Newfoundland & Labrador, one of the Fraser Institute's top-10 mining jurisdictions in the world. The Company's present foci are Orogenic Gold, Epithermal Gold-Silver, and Volcanogenic Massive Sulphide deposits. Presently, the Company holds the rights to more than 90,000 hectares (>900 km2) of mineral claims on the Island of Newfoundland, distributed amongst 19 individual properties that are situated in either the "Central Newfoundland Gold Belt", the "Baie Verte Mining District", or the "Avalonian Epithermal Belt".
(Data Sources: Lannon, G., 2005; 1st Year Assessment Report, Handcamp Property, Central Newfoundland. Government of Newfoundland & Labrador Department of Natural Resources Assessment Report 012H/08/1788; 2nd Year Assessment Report, Handcamp Property, Central Newfoundland, Government of Newfoundland & Labrador Department of Natural Resources Assessment Report 012H/08/1780).