Mr. Victor (Vic) French reports:
BAY ROBERTS, NEWFOUNDLAND / December 15, 2021 / PUDDLE POND RESOURCES INC. (the "Company" or "Puddle Pond") is pleased to provide the following update on its summer exploration activities at the Painted Dory Project (the "Project"), located in Newfoundland's "Baie Verte Mining District", and owned 100% with no underlying royalties. The Painted Dory Project is situated just a few kilometres from the town of Baie Verte and Rambler Metals and Mining's operating Ming Mine (Figure 1). The Project comprises 4,500 hectares of contiguous claims and covers much of the southern part of the Lower Pacquet Harbour Group – a variably deformed and metamorphosed suite of submarine, mafic and felsic volcanic and volcaniclastic rocks that are, and have been, prolific hosts to over 30 million tonnes of Cu ± Zn ± Au ± Ag volcanogenic massive sulphide mineralization (VMS) over the last fifty years. In addition to its potential for the discovery of new zones of copper-rich mineralization, the Painted Dory Project area is also (1) crossed by at least one major shear zone, indicating the possibility for the development of orogenic gold mineralization, and (2) traversed by a significant length of the northern intrusive contact of the epizonal Burlington granodiorite.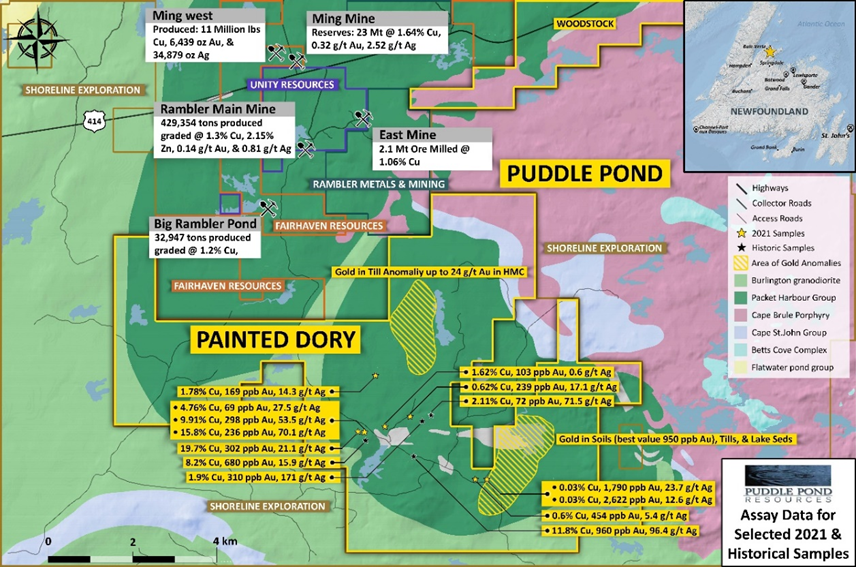 Figure 1. Map of Puddle Pond's Painted Dory Project located in the Baie Verte Mining District
Prior to Puddle Pond's fieldwork this year, there had been a 25-year hiatus in mineral exploration activity on the ground, with the last detailed examination of its copper and gold potential having been carried out by CanAustra Gold Exploration Ltd. in the late 1980s (Bradley, 1988). CanAustra's prospecting had been highly successful, having: (a) corroborated the copper-rich nature of occurrences identified in earlier programs (e.g., the Lever-Tuach #1 and #2 showings); (b) discovered numerous new occurrences of chalcopyrite-rich mineralization in both outcrop (up to 8.2% Cu and 0.93 g/t Au) and boulders (up to 11.8% Cu and 0.96 g/t Au); and (c) identified a significant gold-in-soil anomaly (values up to 950 ppb Au) located immediately to the west of Bill's Pond (Figure 1).
After acquiring the property early in 2021 and expanding the Project to its current size of 5,400 hectares through staking, Puddle Pond conducted an intensive program of prospecting and "ground truthing" during the Summer, taking advantage of the excellent access afforded by forestry roads and ATV trails. Highlights of the program are presented in Figure 1 and Table 1. High-grade copper mineralization, comprising chalcopyrite ± bornite ± malachite, occurs in massive, semi-massive, stringer and disseminated form in altered and silicified volcanic rocks (e.g., Lever-Tuach #1 and #2) and in mineralized quartz veins (e.g., Lucky Strike) – all of which carry notable concentrations of gold and silver.

In addition to confirming the widespread distribution of high-grade copper ± gold ± silver mineralization, the summer program also succeeded in reinforcing the gold potential of the property, particularly in an area immediately west of Bill's Pond. Here, samples with up to 2.6 g/t Au were found in float (altered, silicified volcanics) in proximity to a large gold-in-soil anomaly identified by CanAustra Gold Exploration in 1988. Prospecting around a large gold-in-till anomaly with up to 24 g/t Au in heavy mineral concentrate further to the north (cf. Averill, 1996) was less successful due to the consistently thick nature of the glacial overburden.
Lastly, the contact aureole of the Burlington Granodiorite in the southern parts of the Property, where significant zones of quartz + epidote ± magnetite veining were identified by the Company's prospectors, remains a target for intrusion-related base-metal sulphide and/or precious-metal mineralization.
Victor French, P.Geo., a Qualified Person as defined by NI 43-101 and President & COO for Puddle Pond, is responsible for the technical information contained in this News Release.
On Behalf of the Board of Directors
"Victor A. French"
1-709-786-7978
contactus@puddlepondresources.com
About Puddle Pond Resources Inc.: Puddle Pond Resources is a Newfoundland-based mineral exploration company (headquartered in Bay Roberts, Conception Bay) focused on the identification and development of undervalued mineral assets in the Province of Newfoundland & Labrador, one of the Fraser Institute's top-10 mining jurisdictions in the world. The Company's present foci are Orogenic Gold, Epithermal Gold-Silver, and Volcanogenic Massive Sulphide deposits. Presently, the Company holds the rights to more than 90,000 hectares (>900 km2) of mineral claims on the Island of Newfoundland, distributed amongst 19 individual properties that are situated in either the "Central Newfoundland Gold Belt", the "Baie Verte Mining District", or the "Avalonian Epithermal Belt".
(Data Sources: Bradley, P.; 1988; Second Year Assessment Report on Geological, Geochemical and Geophysical Exploration for the Gull Pond project for Licence 2869 on Claim Block 4498, Licence 2876 on Claim Block 4496 and Licence 2923 on Claim Block 4651 in the Double Pond, North Twin Pond and Snoopy Pond areas, Newfoundland: Government of Newfoundland & Labrador Department of Natural Resources Assessment Report 012H/16/1044 (CanAustra Gold Exploration Ltd.); Averill, S.A.., 1996; Follow-Up Heavy Mineral Till Geochemistry Survey for Gold on Corona Anomalies 1 and 2: Government of Newfoundland & Labrador Department of Natural Resources Assessment Report 012H/16/1544 (Connecticut Development Corp., Appendix C).