Mr. Victor (Vic) French reports:
BAY ROBERTS, NEWFOUNDLAND / December 7, 2021 / PUDDLE POND RESOURCES INC. (the "Company" or "Puddle Pond") is pleased to provide the following update on its summer exploration activities at the Handcamp Property, owned 100% with no underlying royalties. The Handcamp Property located in central Newfoundland, is 1 km east of the town of South Brook (a deep-water port) with the Trans-Canada Highway crossing the southernmost portion of the property (Figure 1). The 9,000-hectare Handcamp Property covers much of the northern part of the Buchans-Roberts Arm belt of submarine volcanic rocks that is well known as the host of several past-producing mining operations including the world famous Buchans Mine and the nearby Gullbridge Deposit. In addition, the property also envelops a long (>20 km), continuous section of the "Red Indian Line", a major, regional lithotectonic boundary and transcrustal fault system.
A twelve-hole diamond drilling program in 2010 (Pickett, 2011) returned highlight gold values of 6.28 g/t Au over 1.9 m within a broader interval of 1.20 g/t Au over 20.9 m in DDH-004; 2.05 g/t Au over 3.0 m within a broader interval of 1.16 g/t Au over 22.0 m in DDH-005; and 8.52 g/t Au over 0.8 m within a broader interval of 1.02 g/t over 17.8 m in DDH- 012. True width was estimated at 75% and full QA/QC protocols were instituted. Eleven of the 12 holes were drilled in three fences spaced approximately 250 metres apart located near the Main Handcamp Prospect (Figure 1), while DDH-012 was drilled t approximately 550 metres to the southwest of hole DDH-004 to test the location of a 31 g/t Au float sample.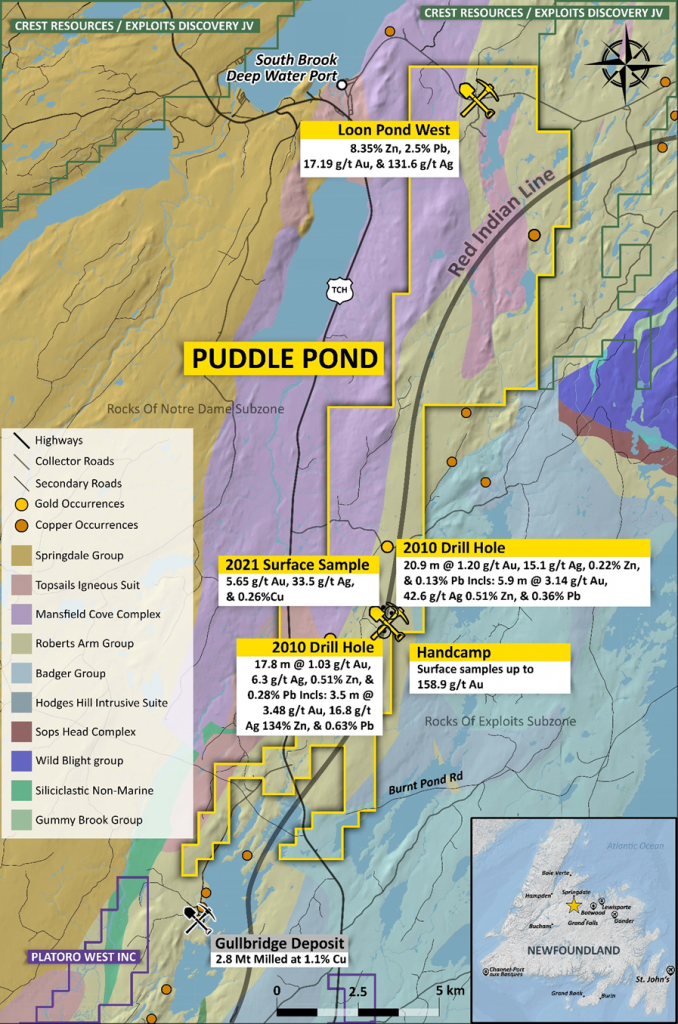 Puddle Pond's focus this summer was to determine the source of an historical high-grade, surface sample (138.13 g/t Au; Lannon, 2005) and better define the extent of gold mineralization outlined in the 2010 drilling campaign through a combination of detailed prospecting, surface mapping, and follow-up trenching/channel sampling. Highlights of the 2021 summer exploration program are listed in Tables 1 through 3 and include:
· 8.0 metres of 5.22 g/t AuEq (4.86 g/t Au & 27.57 g/t Ag) in channel #3
· 9.0 metres of 2.92 g/t AuEq (2.64 g/t Au & 21.66 g/t Ag) in channel #1
· 4.2 metres of 4.89 g/t AuEq (4.22 g/t Au & 53.38 g/t Ag) in channel #4S
· Surface grab samples of up to 15.27 g/t Au and 49.8 g/t Ag



On an outcrop scale, the gold mineralization at Handcamp is hosted in a combination of (a) highly deformed quartz veins/zones of silica flooding that exhibit evidence of both ductile and brittle deformation, and (b) intensely foliated and quartz-sericite-pyrite altered volcanic and volcaniclastic rocks that display evidence of shearing and the related formation of tight to isoclinal folds. At a larger scale, lithostructural analysis indicates the presence of a district-scale shear zone (>15 km in length) comprised of an anastomosing system of faults that exhibit both strike slip and dip slip components of movement.
Victor French, P.Geo., a Qualified Person as defined by NI 43-101 and President & COO for Puddle Pond, is responsible for the technical information contained in this News Release.
On Behalf of the Board of Directors
"Victor A. French"
1-709-786-7978
contactus@puddlepondresources.com
About Puddle Pond Resources Inc.: Puddle Pond Resources is a Newfoundland-based mineral exploration company (headquartered in Bay Roberts, Conception Bay) focused on the identification and development of undervalued mineral assets in the Province of Newfoundland & Labrador, one of the Fraser Institute's top-10 mining jurisdictions in the world. The Company's present foci are Orogenic Gold, Epithermal Gold-Silver, and Volcanogenic Massive Sulphide deposits. Presently, the Company holds the rights to more than 90,000 hectares (>900 km2) of mineral claims on the Island of Newfoundland, distributed amongst 19 individual properties that are situated in either the "Central Newfoundland Gold Belt", the "Baie Verte Mining District", or the "Avalonian Epithermal Belt".
(Data Sources: Pickett,J.W.; 2011; Line Cutting, Soil Sample Analysis, Induced Polarization Geophysics, Trenching and Diamond Drilling, Handcamp Property. Government of Newfoundland & Labrador Department of Natural Resources Assessment Report 012H/08/2157; Lannon, G., 2005; 1st Year Assessment Report, Handcamp Property, Central Newfoundland. Government of Newfoundland & Labrador Department of Natural Resources Assessment Report 012H/08/1788 and 2nd Year Assessment Report, Handcamp Property, Central Newfoundland, Government of Newfoundland & Labrador Department of Natural Resources Assessment Report 012H/08/1780)