After the completion of a highly successful financing in June of this year, Victor (Vic) French, President & COO of Puddle Pond Resources (the "Company"), would like to offer his sincere thanks to all the Company's shareholders for their continuing support and provide the following Corporate update on the Company's most recent activities:
· The Company now holds more than 90,000 hectares (>900 km2) of mineral claims on the Island of Newfoundland that are highly prospective for one or more of the following:
Orogenic-type (structurally controlled) gold deposits.
Epithermal gold-silver mineralization.
Precious-metal-rich volcanogenic massive sulphide deposits.
· All of the Company's newest acquisitions are located in the Dunnage Zone, in sections of the "Central Newfoundland Gold Belt".
Prominent amongst these is the "Great Bend Property" (see Map) comprised of three small, closely-spaced claim groups (650 hectares) that are host to several bona fide gold targets:
a) "Chiouk Brook" where mineralized boulders returned values of 18.6 g/t Au and
8.9 g/t Au and drill-core produced 14.55 g/t Au over 0.25 metre (Ref. 1);
b) "Lizard Pond South" where trenching has exposed quartz breccia veins with 12.50 g/t Au over 0.4 metres and 6.58 g/t Au over 1.2 metres (Ref. 2);
c) "Breccia Pond" where channel samples in the vicinity of a 7,500 ppb gold-in-soil anomaly returned values of 3.24 g/t Au and 1.72 g/t Au (Ref. 2); and
d) "Swan Lake" where a quartz breccia vein returned 3.1 g/t Au over 2 metres (Ref. 2).
The "Great Bend Property" shares a common boundary with New Found Gold's "Queensway Property", which is located immediately to the east (see Map).
· In addition to the latest acquisitions, the Company has also added significantly to its land position through staking. Some of the highlights are:
The expansion of the "Fortuna" epithermal Au-Ag property on the southernmost Burin Peninsula to greater than 11,500 hectares.
Staking of a contiguous package of over 200 claims (>5,000 hectares) in the Gambo area close to the Trans-Canada Highway,. These new claims abut the eastern margin of the White Metal Resources/Leocor Gold "Startrek Gold-Antimony Project" and cover the extensions of the primary and secondary structures that control mineralization on the neighbouring "Startrek Gold Property".
· Prospecting has been ongoing throughout the Summer with crews working on the "Painted Dory", "Handcamp", "Lake Bond", and "Calvin's Landing" properties. Recent gold discoveries at the "Handcamp Property" have caused this area to become the focus of the Company's current exploration efforts.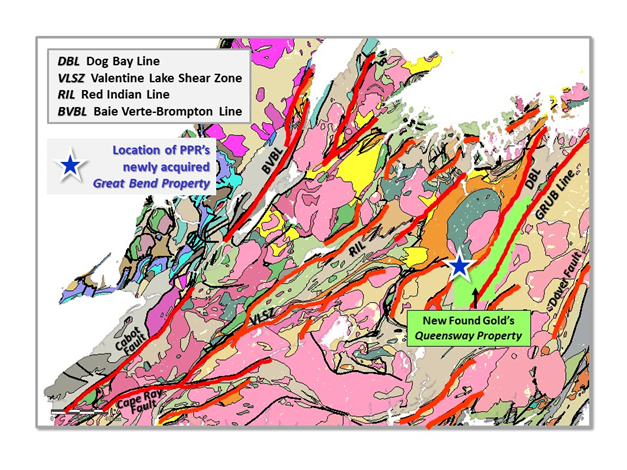 Map showing the location of the newly acquired Great Bend Property and its proximity to New Found Gold's "Queensway Project"
References:
(1) Newfoundland & Labrador Geological Survey Assessment File 2D/11/0171 (1987), 49 pages.
(2) Newfoundland & Labrador Geological Survey Assessment File 2D/11/0217 (1989), 240 pages.