Victor (Vic) French, President & COO of Puddle Pond Resources (PPR), is very pleased to announce the acquisition of the Lake Bond volcanogenic massive sulphide (VMS) deposit from the Reid Newfoundland Company Limited.  The acquisition involved a cash payment and is not subject to any overriding royalty.  The Lake Bond deposit is hosted by the Roberts Arm Group, one in a series of well-preserved Lower Ordovician volcano-sedimentary terranes in central Newfoundland.  These volcanic belts host numerous examples of base- and precious-metal rich VMS deposits including the world-famous Buchans Mine, which operated for more than fifty years and produced more than 16 million tonnes of high-grade, polymetallic (Cu-Zn-Pb-Ag-Au) ore, and the Gullbridge Mine with historic reserves of 4.35 Mt grading 1.24% Cu.  Situated approximately 11 km east-northeast of the town of Millertown Junction and less than 10 km from the Trans Canada Highway, the Lake Bond Property has excellent year-round access. 
The Lake Bond deposit comprises Zn-Cu mineralization hosted in pervasively chloritized and locally silicified submarine mafic volcanic rocks.  Mineralization is largely contained in an extensive VMS stockwork zone although several lenses of massive sulphide have also been identified.  The Lake Bond Property was the focus of intensive exploration in the 1950s, 60s, and 70s, when New Jersey Zinc Exploration and Consolidated Morrison Explorations completed substantial programs of geological mapping, geophysics, and diamond drilling.  In 1977, Consolidated Morrison calculated ore reserves (non-compliant NI-43-101) for the "Main Zone" of the Lake Bond VMS deposit of 1.28 million tons grading 2.12% Zn and 0.31% Cu.  Historical diamond drill intersections of note include:
In the VMS stockwork zone:
97.54 metres of 2.62% Zn and 0.18% Cu (New Jersey Zinc DDH 56-27)*
83.82 metres of 2.48% Zn and 0.29% Cu (New Jersey Zinc DDH 56-29)
and
In the massive sulphide lenses:
12.68 metres of 2.07% Zn, 2.80% Cu, and 5.93 g/t Ag (New Jersey Zinc DDH 56-4)
6.74 metres of 2.97% Zn, 1.28% Cu, and 10.26 g/t Ag (New Jersey Zinc DDH 56-3)
With the Lake Bond acquisition, Puddle Pond Resources now owns 4471 hectares (~44 km2) of contiguous claims that cover both the northern and southern strike extensions of the highly prospective Roberts Arm Group submarine volcanics that host the Lake Bond deposit (see Map).  In combination, these Mineral Licences constitute Puddle Pond's newly amalgamated "Lake Bond Property".  The Lake Bond Property represents the cornerstone of PPR's newly developed portfolio of Newfoundland VMS properties, which includes the Tea Arm, Lockport South, Seal Bay, and Point Leamington North and South claim groups located within the environs of Callinex Mines' 14.1 Mt "Point Leamington VMS deposit"**.
*New Jersey Zinc DDH assay data from Assessment File, GeoFile #012H/01/0138, Nfld. Dept. of Mines & Energy.
**Callinex Mines News Release, May 16, 2016.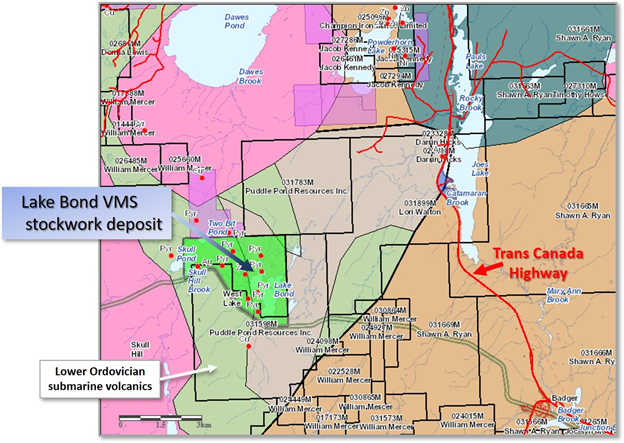 The Lake Bond Volcanogenic VMS deposit is located on the Lake Bond Mineral Lease (highlighted in bright green) approximately 10 km west of the Trans Canada Highway.  Together with Puddle Pond Resources existing Licences (031783M and 031598M), the new acquisition comprises the "Lake Bond Property" with 4471 hectares of contiguous claims in the highly prospective Lower Ordovician, Roberts Arm Group volcanic rocks of central Newfoundland.
On behalf of the Board & Management
Victor. A. French, P.Geo.
President & COO