On behalf of the management of Puddle Pond Resources Inc. I am pleased to advise that our Joint Venture partner Golden Ridge Resources Ltd. of Kelowna, B.C. is reporting the latest drill results for the Heritage Gold (Au) – Silver (Ag) Project. The following are highlights from their News Release, posted in detail on their website at www.goldenridgeresources.com, for the 5182 metres of core drilling just completed on the Heritage Project:
The drilling program, which focused on expanding the extent of the known mineralization at the Eagle Zone, continued to produce positive results, encountering high- grade mineralization at deeper levels (>150 metres true vertical depth). For example,
5.13 metres grading 4.04 g/t Au and 97.40 g/t Ag (5.40 g/t AuEq or 385.65 g/t Ag Eq) in ddh HE-EZ-20-14
7.42 metres grading 4.94 g/t Au and 48.44 g/t Ag (5.58 g/t AuEq or 468.31 g/t Ag Eq) in ddh HE-EZ-20-07
3.36 metres grading 4.59 g/t Au and 202.33 g/t Ag (7.42 g/t AuEq or 529.88 g/t Ag Eq) in ddh HE-EZ-20-18
Other significant intercepts are listed in the Golden Ridge News Release, which also includes mineralized intersections from a small number of reconnaissance drill holes from the Pinnacle, Turpin and Lunch Spot Zones Au-Ag showings located approximately 800 metres east of the Eagle Zone.
The management of Golden Ridge state that "We are pleased that all drill hole results to date from the Eagle, Pinnacle, Turpin and Lunch Spot Zones have intersected significant intervals of strong epithermal style veining, alteration and silver and gold rich mineralization".
Puddle Pond is very encouraged by these positive drill results, which 1) demonstrate that the Au-Ag mineralization remains open at depth and along strike towards the south; and 2) continue to expand the size (tonnage) of the mineralized Eagle Zone which already has a Mineralized Inventory (non-NI 43-101 compliant of 76,074 contained equivalent gold (AuEq) ounces calculated by P & E Mining Consultants Inc.
Since acquiring the Property in 2012 the work by Puddle Pond Resources (and now Golden Ridge Resources as the operator of the Joint Venture) has established that the Heritage Project, situated in the Avalon Zone belt of rocks on the Burin Peninsula, has the potential to host an economic Au–Ag deposit of considerable size. This belt of highly favorable rocks (see map below) stretches from Morocco in North Africa, through the Avalon Zone in Newfoundland, to the Carolinas in the U.S.A., and contains a series of large epithermal gold and silver deposits (i.e., Haile in South Carolina, Hope Brook in Newfoundland and Zgounder and Imiter in Morocco).
Plans for the 2021 exploration season are in progress with the objective of achieving a much improved and upgraded resource by year end. Based on the recognition of new targets during the 2020 exploration program, the Heritage Project has been doubled in size and now comprises more than 1000 contiguous claims covering an area of more than 250 Km2.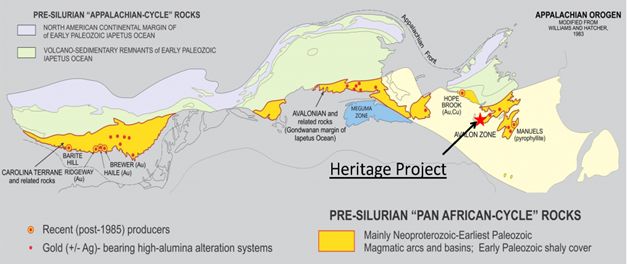 On behalf of the Board & Management
Victor. A. French, P.Geo.
President & COO