Laying the Groundwork at the MolyPeak Project
The MolyPeak Project is a new discovery of molybdenum mineralization in a porphyry environment, made by North Range in the fall of 2007 and representing the first significant discovery of molybdenum in the CVB.  Detailed geochemical and prospecting surveys by North Range have uncovered a zone of mineralized quartz veins, which extends for at least 1300 metres along strike and with a width up to 350 metres.
PPR contracted Eastern Geophysics of West Pubnico, Nova Scotia to carry out Induced Polarization (IP) Surveying along 50 metre and 100 metre spaced lines over both the MolyPeak and Horn-Mesher mineralized zones.  The results of this survey interpreted and modeled by independent geophysicist Gerard Lambert, P.Eng. of St. Andre-Avellin, Quebec have identified over 50 individual geophysical anomalies representing 12 linear trends.  These are inferred to represent significant metal concentrations and Mr. Lambert has recommended 9 targets worthy of drill follow-up.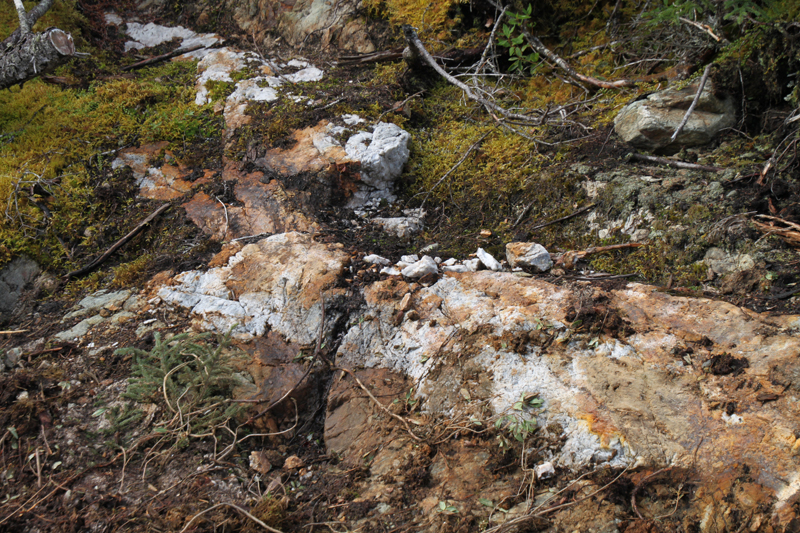 Drilling and 43.101 Compliance
The drill contract has been awarded to Cabo Drilling (Atlantic) Corp. of Springdale, NL with a drill start-up scheduled for mid July.  Up to 30 drill sites are planned for an estimated total of 6,000 – 7,000 metres (approx. 20,000 feet) of NQ size drill core.  The drill sites will test the MolyPeak Project, molybdenum mineralized zone following up on the successful drill intersections last fall into this newly discovered, porphyry styled, quartz vein hosted molybdenum mineralization.  Also targeted for drilling are the Lundberg Grid copper – gold mineralization hosted in volcanic rocks and quartz vein hosted, Buchans Type high grade zinc, silver, lead, copper and gold mineralization contained in quartz vein outcrops within the Horn – Mesher Project, next to the MolyPeak Project.
The results of the VTEM PLUS airborne surveying by Geotech will further assist in more precisely fixing the collars of the planned drill holes.  Earlier Geophysical Surveys carried out on the ground and employing the Induced Polarization surveying method have already been useful in identifying anomalies for follow-up drilling .
PPR commissioned Dr. Derek Wilton of St. John's, NL to complete a 43-101 compliant, independent technical report on the MolyPeak and Horn-Mesher Projects.