Mr. Victor (Vic) French, President & COO, reports:
BAY ROBERTS, NEWFOUNDLAND / May 5th, 2022 / PUDDLE POND RESOURCES INC. (the "Company" or "Puddle Pond") is pleased to report the commencement of drilling at its 100%-owned Handcamp Project in central Newfoundland, where a highly successful program of prospecting and trenching in 2021 identified a significant length of gold-mineralized shear zone in the central part of the project area. In addition to the discovery of numerous new surface occurrences of gold mineralization at Handcamp, the two principal trenches returned "ore-grade" gold mineralization over "mineable widths" (see News Release of December 7th, 2021):
Trench #1, channel: 2.64 g/t Au & 21.66 g/t Ag (2.92 g/t AuEq) over 9.0 metres (~30 feet)
Trench #3, channel: 4.86 g/t Au & 27.57 g/t Ag (5.22 g/t AuEq) over 8.0 metres (~26 feet)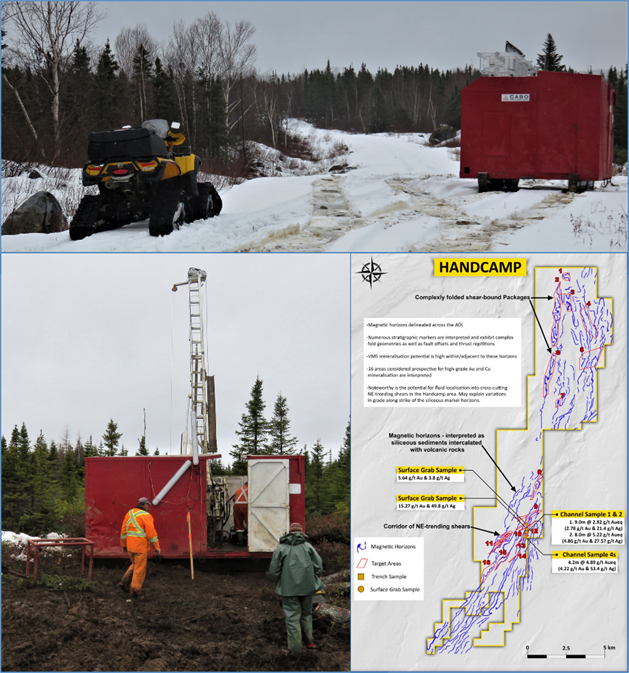 The scout drilling program, totalling 600-800 metres in eight holes, has two main goals:
To test the continuity of shear-zone hosted gold mineralization in the shallow subsurface (at depths of less than 100 metres) over a strike length of approximately 300 metres.
To generate lithological and structural data that will aid in: (a) the determination of the fundamental controls of the distribution of gold mineralization and its accompanying alteration; and (b) the characterization of the nature of the host shear zone.
Mr. French commented: "Since our acquisition of the original Handcamp claims in May of 2021 we have been single-minded in our commitment to show the potential of the area as a host for orogenic-style gold mineralization. The results of last year's program of trenching and channel sampling were highly encouraging in this regard, and we certainly hope that this inaugural program of drilling will further add to the already compelling evidence that such gold mineralization is widespread in a near-surface setting."
On Behalf of the Board of Directors
"Victor A. French"
1-709-786-7978
contactus@puddlepondresources.com
About Puddle Pond Resources Inc.: Puddle Pond Resources is a Newfoundland-based mineral exploration company (headquartered in Bay Roberts, Conception Bay) focused on the identification and development of undervalued mineral assets in the Province of Newfoundland & Labrador, one of the Fraser Institute's top-10 mining jurisdictions in the world. The Company's present foci are Orogenic Gold, Epithermal Gold-Silver, and Volcanogenic Massive Sulphide deposits. Presently, the Company holds the rights to more than 90,000 hectares (>900 km2) of mineral claims on the Island of Newfoundland, distributed amongst 19 individual properties that are situated in either the "Central Newfoundland Gold Belt", the "Baie Verte Mining District", or the "Avalonian Epithermal Belt".