Victor (Vic) French, President & COO of Puddle Pond Resources (PPR), is pleased to announce that the company has greatly expanded its land holdings in the "Epithermal Au-Ag District" of eastern and southern Newfoundland hosted in Late Neoproterozoic rocks of the Avalon Zone (Map 1 below). Stretching from Newfoundland to the Carolina Slate Belt in the USA, this ancient geological terrane hosts several producing and past-producing mines. In South Carolina, OceanaGold's "Haile Gold Mine" has resources of more than 3 million ounces of gold and is forecasting production of 150,000-170,000 ounces of gold for 2021*. In Newfoundland, the "Hope Brook Mine" produced 752,162 ounces of gold from 1987-1997. Recently acquired by Big Ridge Gold, Hope Brook hosts an indicated gold resource totalling 5.5 million tonnes grading 4.77 grams per tonne gold and inferred resources of totalling 836,000 tonnes grading 4.11 grams per tonne gold (Big Ridge Gold News Release of April 6, 2021).
Puddle Pond's recent activity has:
Resulted in a substantial increase in the size of the "Heritage Property" currently being explored by the Golden Ridge Resources-Puddle Pond Resources Joint Venture, in which PPR has a carried 25% interest and a 1.5% NSR. The Heritage is home to the "Eagle Zone" (hosted in the subaerial volcanic rocks of the Marystown Group), where recent drilling has continued to expand the known mineral resource both along strike and at depth. With the recent staking, the Heritage Property now comprises 1007 claims or >25,000 hectares of highly prospective ground for epithermal gold and silver mineralization (Map 2 below).
Added an important new land position in the southern Burin Peninsula. The "Fortuna Property" located to the northeast of the company's flagship Heritage Property (Map 2) is composed of 338 contiguous claims (8450 hectares) of Marystown Group subaerial volcanics that cover the extensions of a series of important district-scale, gold-bearing structures recently identified by Northern Shield Resources (see the Northern Shield News Release of March 30, 2021)
Identified and acquired an exciting, high-sulphidation epithermal Au-Ag alteration system (with extensive zones of hydrothermal pyrophyllite and alunite), similar in nature to the well-known "Hickey's Pond" occurrence. Called the "Calvin's Landing Property", this new zone of epithermal alteration is located 7 km east of the Trans-Canada Highway near Glovertown and is made up of 182 claims.
Puddle Pond is now one of the largest landholders in Newfoundland's exciting epithermal district, where exploration activity is rapidly expanding.
Vic French
*https://oceanagold.com/operation/haile/
Map 1.  Location of the Haile gold mine (producer) and the Hope Brook gold mine (past producer) in the Neoproterozoic volcanic rocks of the Avalon Zone.  PPR's Heritage Project is located on the southern tip of Newfoundland's Burin Peninsula (see the red star).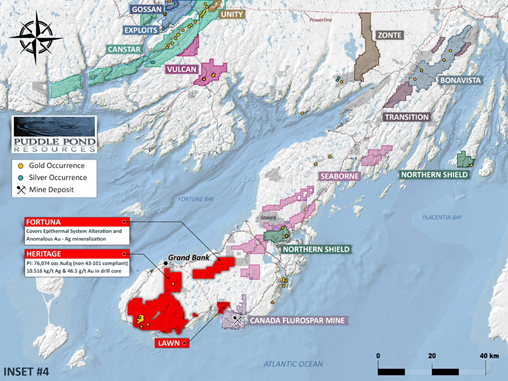 Map 2.  Location of the Heritage and Fortuna epithermal gold-silver properties on the Burin Peninsula of southern Newfoundland.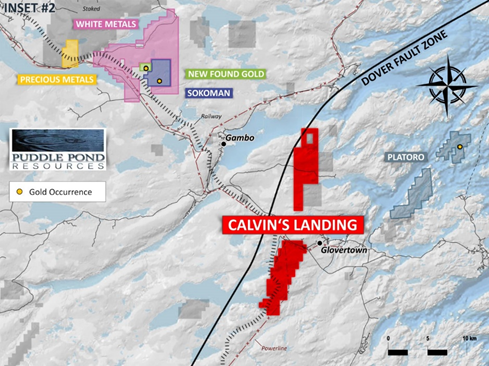 Fig. 3.  Location of the Calvin's Landing epithermal Au-Ag property close to the Trans-Canada Highway and the community of Glovertown.