Victor (Vic) French, President & COO of Puddle Pond Resources ("the Company"), is pleased to announce the staking of 145 new claims on the Baie Verte Peninsula. Together, the four new licences constitute the Company's new 3625 hectare "Woodstock Property" (see Map).
The Baie Verte Peninsula is host to a rich mineral endowment and has long been the focus of mining and exploration for copper and gold. Current production comes from: Rambler Metals & Mining's "Ming Mine" (a high-grade, Cu-Au, volcanogenic massive sulphide deposit with reserves of 24.5Mt @ 1.7% Cu and 0.34g/t Au); and Anaconda Mining's "Point Rousse Operation", where several structurally controlled deposits support annual production of 17,000-18,000 ounces of gold.
Stretching from the Rambler Mining Camp in the west to the area of Southwest Pond in the east, the Woodstock Property forms a corridor around the Woodstock and La Scie highways. Much of the property is underlain by the Upper Pacquet Harbour Group comprising mafic and felsic volcanics and volcaniclastics together with interbedded shales and turbidites. These rock sequences are ideally suited for the development of volcanogenic massive sulphide mineralization like that contained in the nearby Rambler and Ming deposits.
A detailed lithostructural analysis of the Woodstock Property shows the Upper Pacquet Harbour Group rocks to be complexly folded and faulted with the zones of most intense deformation coinciding with a cluster of historical gold-in-soil anomalies. Commencing this month, Puddle Pond Resources will begin fieldwork on the property to test several targets:
1) A >1 km2 cluster of historical gold-in-soil anomalies (numerous values of >50ppb with a maximum of 720ppb Au*) overlying an area of complex folding and faulting.
2) A series of historical silver-in-soil anomalies with multiple values >2.0g/t Ag and ranging up to 49.7g/t Ag*.
3) A large (>1 km2) area of altered felsic pyroclastic (volcanic) rocks with surface grab samples of up to 0.5g/t Au.
4) An historical soil anomaly with high concentrations of copper (300ppm to >3000ppm Cu*) and several other metals (Zn, Pb, Ag, Au, As, and Cd).
*Newfoundland Dept. of Natural Resources, Assessment File NFLD/1866 (1987).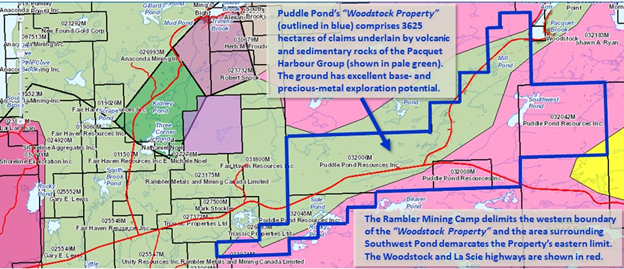 On behalf of the Board & Management
Victor. A. French, P.Geo.
President & COO