NL based, private resource company Puddle Pond Resources Inc. is pleased to report positive assay results from latest drilling completed at the gold (Au) – silver (Ag) mineralized Eagle Zone on the Heritage Project situated at Point May along the Burin Peninsula paved highway, southern Newfoundland. This latest drilling, which focused on further testing the north and south strike extensions of the Eagle Zone, all intersected silica (quartz vein) alteration that typically host the Au and Ag mineralization seen at Eagle.
The assays just received from ISO Accredited Eastern Analytical Laboratories of Springdale, NL confirm the continuation of the Au and Ag mineralization encountered in earlier drilling at the Eagle Zone dating back to 2013. Highlights of the latest 2016 drill intersections are listed below: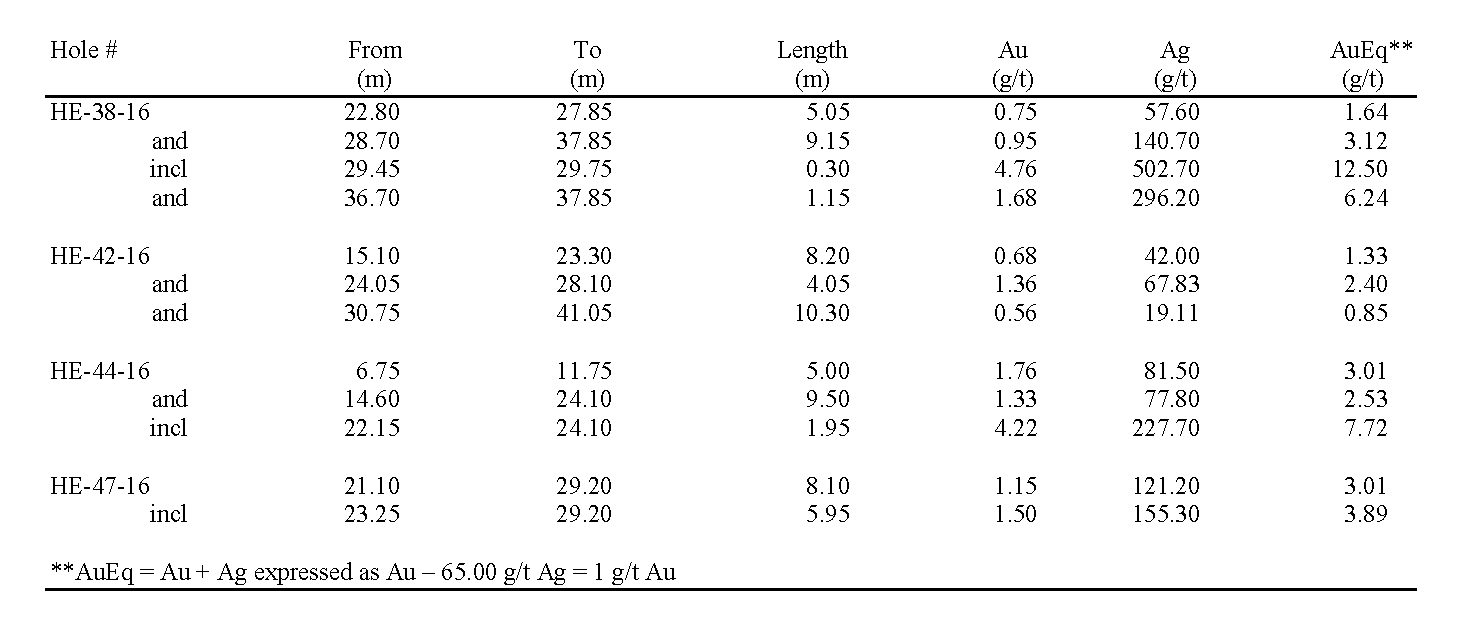 These positive results show the well mineralized 300 metre (1000 ft.) long section of the Eagle Zone, representing the preliminary resource block of 72,000 AuEq ounces calculated at the end of 2015, continues north and south in thick, multiple silica (quartz veined) layers/veins, commonly greater than 5 metres (16.5 ft.) thick. The 3 separate, closely spaced mineralized layers/veins intersected in hole HE-42-16 total 22.55 metres (74 ft.) at a grade of 1.31 g/t AuEq.
The 12 holes drilled to test the north & south strike extensions of the Eagle Zone intersected mineralization at shallow, vertical depths from 5 to 55 metres below surface and the tenor, or level of Au and Ag mineralization over the thickness or widths of the mineralized layers/veins fit the model of an open pit or quarry type, mining operation.
This latest drilling has produced other positive results with the intersection of thick, Ag enriched layers/veins such as the interval grading 140.70 g/t (4.54 oz/t) over 9.15 m or 30 ft. in HE-38-16. These thicker Ag enriched sections are also characterized by narrower intervals of higher grade Ag such as 0.30 m @ 502.70 g/t (16.14 oz/t) in HE- 38-16, 0.65 m @ 554 g/t (17.81 oz/t) in HE-47-16 and  0.30 m @ 500 g/t (16.08 oz/t) in HE- 46-16.
Earlier drilling in 2013 and 2015 intersected the higher grade (gold & silver) mineralization down to much deeper levels such as the 6.21 g/t AuEq over 0.75 m at 140 m (459.2 ft) vertical depth in 2015 hole HE-21-15 and 36.21 g/t AuEq over 0.43 m at 130 m (396.3 ft) vertical depth in 2013 hole HD-13-13. These deeper higher grade intersections are typical of the low sulphidation, epithermal style of gold-silver mineralization found on the Heritage Project.
The strong Ag (and Au) values intersected in the latest drilling that trend north and south are significant, in that they trend towards the new 2016 surface discoveries at the Cabin and Trail Zones which are characterized by high grade Ag, accompanied by high grade Au (ref. Sept 26/2016 release). The Trail Zone which is 700 metres south of the high grade Ag intersection in hole HE-38-16, at the south end of the Eagle Zone, is highlighted by a surface grab sample which assayed 515 g/t Ag and 8.2 g/t Au – a recent resample of this sample site yielded much improved assays of  847.6 g/t (27.3 oz/t) Ag and 12.2 g/t (0.39 oz/t) Au, which is the highest surface grab sample from the entire Heritage Project.
In early November Puddle Pond temporarily suspended the 2016 drilling program to evaluate the latest results from the drilling program and surface surveys, and to compile the new drill information for calculating an updated mineral resource at the Eagle Zone. The 2015 preliminary resource was calculated by P & E Mining Consultants Inc. of Brampton Ontario and the company has now forwarded the latest database from the 2016 drilling to P & E Mining Consultants to calculate an updated resource. The updated mineral resource should be available later this month.
Puddle Pond's Chairman & CEO Dr. David Strong of Victoria, B.C. advises the company is highly encouraged by the results of the 2016 drilling program on the Eagle Zone, as well as the new surface discoveries, and these results together with the updated mineral resource will be vital to directing the ongoing exploration on this important project.
The technical information in this release was compiled by President & COO Victor A. French, P. Geo who is a qualified person under NI 43-101 guidelines.